Titre original : Twelve Angry Men
Sortie US : 1957 (13 avril)
Durée : 96 min (1 h 36)
Langue : Anglais
Orion-Nova Productions, United Artists
Noir et blanc
Le Casting


Martin Balsam ... Juré n°1
John Fiedler ... Juré n°2
Lee J. Cobb ... Juré n°3
E.G. Marshall ... Juré n°4
Jack Klugman ... Juré n°5
Ed Binns ... Juré n°6
Jack Warden ... Juré n°7
Henry Fonda ... Juré n°8 / M. Davis
Joseph Sweeney ... Juré n°9 / M. McCardle
Ed Begley ... Juré n°10
George Voskovec ... Juré n°11
Robert Webber ... Juré n°12
Rudy Bond ... Le juge
James Kelly ... Le gardien
Billy Nelson ... Le commis de Cour
John Savoca ... L'accusé

Equipe du film


D'après la pièce éponyme de Reginald Rose
Réalisateur : Sidney Lumet
Scénariste : Reginald Rose
Producteurs : Henry Fonda, George Justin et Reginald Rose
Musique : Kenyon Hopkins
Image : Boris Kaufman
Montage : Carl Lerner
Son : James A. Gleason
Direction artistique : Robert Markel
Maquillage : Herman Buchman
L'histoire
Cour de Justice de New York. Un jury en huit-clos doit statuer sur le cas d'un jeune homme de dix-huit ans d'origine hispanique qui est accusé du meurtre de son père. Si les jurés - de milieux, de situations, de métiers différents - rendent le verdict "coupable", plus rien ne s'opposera à ce que lui soit infligé la peine capitale, c'est-à-dire la peine de mort. Tout accuse le suspect : la voisine d'en face l'a vu, le vieil homme du dessous l'a entendu, un commerçant lui a vendu le soir du meurtre le couteau que l'on a retrouvé planté dans le corps de son père.
Lors du vote pour établir sa culpabilité - l'unanimité est requise -, onze jurés pensent qu'il est le meurtrier mais le juré n°8, un architecte symboliquement vêtu de blanc, un juste, vote non coupable. Ce dernier n'est pas sûr, n'est pas convaincu par ce qu'il a vu ou entendu pendant le procès et dans le doute, il refuse de "cautionner" l'exécution de l'adolescent. Il va alors user de son intégrité, de son éloquence et de sa rigueur pour mettre en relief les incohérences des éléments de l'enquête auprès des onze autres jurés. Les débats sont houleux et partagés, les arguments fusent de toute part, les évidences s'effondrent comme des châteaux de cartes. Les positions des jurés changent, certains hésitent, certains veulent partir au plus vite, d'autres enchaînent les "coupable - non coupable" mais finalement le verdict acquis d'avance ne sera plus qu'un lointain souvenir quand chacun des jurés, pour des raisons diverses, se sera rallié à la cause de M. Davis. Le jeune homme est reconnu non coupable ; le jury se disperse...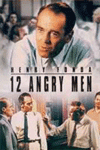 Nominations et récompenses
Trois nominations aux Oscars en 1958 :
- Nomination du meilleur réalisateur pour Sidney Lumet
- Nomination du meilleur film pour Henry Fonda et Reginald Rose
- Nomination du meilleur scénario adapté pour Reginald Rose
Quatre nominations aux Golden Globes en 1958 :
- Nomination du meilleur film (dramatique)
- Nomination du meilleur acteur (dramatique) pour Henry Fonda
- Nomination du meilleur réalisateur pour Sidney Lumet
- Nomination du meilleur second rôle pour Lee J. Cobb
- Prix du meilleur acteur étranger pour Henry Fonda décerné par le BAFTA en 1958
- Ours d'or et prix OCIC remporté en 1957 par Sidney Lumet au festival international du film de Berlin
- Prix du meilleur film étranger décerné par le Blue Ribbon en 1960
- Prix Bodil du meilleur film américain pour Sidney Lumet en 1960
- Silver Ribbon du meilleur réalisateur décerné à Sidney Lumet par l'Italian National Syndicate of Film Journalists en 1958
- Prix Edgar Allan Pœ du meilleur film pour Reginald Rose en 1958
- Prix WGA (Writers Guild of America) du meilleur écrivain dramatique américain pour Reginald Rose en 1958
- Prix "Jussi" (Finlande) du mérite de meilleur acteur pour Henry Fonda en 1958
- Prix "Kinema Junpo" (Japon) du meilleur film étranger pour Sidney Lumet en 1960
- Mention spéciale au Festival International du Film de Locarno en 1957
- Nomination du meilleur film par le BAFTA en 1958
- Nomination de Sidney Lumet pour le prix DGA (Directors Guild of America) en 1958
Informations
- Reginald Rose, l'auteur de la pièce originelle et du scénario, est né à New York le 10 décembre 1920. Il s'enrôle dans l'armée en 1942 et y devient premier lieutenant. Dix ans plus tard, il se lance dans l'écriture, en particulier pour la télévision. Il s'intéresse au système juridique après avoir participé à un procès en tant que juré dans une affaire macabre. C'est de cette expérience que découle "12 Angry Men".
- A mesure du tournage du film, Sidney Lumet utilisa des lentilles de focale croissante, de sorte que les arrières-plans semblent se refermer sur les personnages, créant un plus grand sentiment de claustrophobie.
- Les répétitions du film ayant duré deux semaines épuisantes, le tournage a dû être accompli en 21 jours.
- Le budget du film s'élevait à 340 000 $.
- Il n'y a aucune femme dans le casting de ce film et seulement une, Faith Hubley, dans l'équipe.
- Encensé par la critique mais boudé par le public, ce film conduira Henry Fonda à ne jamais retenter l'expérience d'être producteur.
- Henry Fonda a détesté se voir dans le film, ainsi il ne l'a pas visionné en entier dans la salle de projection. Mais avant qu'il ne sorte, il a dit tranquillement à Sidney Lumet : "Sidney, it's magnificent." (Sidney, il est magnifique.)
- Tout le film sauf trois minutes se déroule à l'intérieur de la salle de délibérations des jurés.
- Seulement deux jurés sont identifiés par leur nom : le n°8, M. Davis et le n°9, M. McCardle.
- Le travail des douze jurés :
le n°1 est entraîneur de football dans un lycée
le n°2 est employé de banque
le n°3 est un patron capitaliste
le n°4 est courtier en bourse
Le n°5 est chômeur
le n°6 est peintre en batîment
le n°7 est vendeur (représentant de commerce)
le n°8 est architecte
Le n°9 est retraité
le n°10 est propriétaire d'un garage
le n°11 est fabricant de montres (un horloger d'origine d'Euope de l'Est plus précisement)
le n° 12 est publicitaire.
- Le film signe les débuts de l'acteur John Fielder.
- Quand l'histoire du film a été créée pour la télévision par "Studio One" le 20 septembre 1954, les jurés étaient Norman Fell, John Beal, Franchot Tone, Walter Abel, Lee Philips, Bart Burns, Paul Hartman, Robert Cummings, Joseph Sweeney, Edward Arnold, George Voskovec, Will West. Joseph Sweeney et George Voskovec furent les deux seuls acteurs à endosser de nouveau leur rôle pour le film.
- Avec le décès de Jack Warden (le Juré n°7) le 19 juillet 2006, Jack Klugman (le Juré n°5) reste le seul des douze stars de "12 Angry Men" qui soit encore en vie.
Citations
[Début du film]
Juge : To continue, you've listened to a long and complex case: murder in the first degree. Premeditated murder is the most serious charge tried in our criminal courts . You've listened to the testimony, you've had the law read to you and interpreted as it applies in this case. It's now your duty to sit down and try to separate the facts from the fancy. One man is dead. Another man's life is at stake. If there is a reasonable doubt in your minds as to the guilt of the accused, a reasonable doubt, then you must bring me a verdict of 'Not Guilty'. If, however, there's no reasonable doubt, then you must, in good conscience, find the accused "Guilty". However you decide, your verdict must be unanimous. In the event you find the accused 'Guilty', the bench will not entertain a recommendation for mercy. The death sentence is mandatory in this case. You're faced with a grave responsibility. Thank you, gentlemen.
Juré n°6 : Well, I'm not used to supposin'. I'm just a workin' man. My boss dœs all the supposin' - but I'll try one. Supposin' you talk us all out of this and, uh, the kid really did knife his father?
Juré n°10 : Bright? He's a common ignorant slob. He don't even speak good English.
Juré n°11 : Dœsn't even speak good English.
Juré n°8 : It's always difficult to keep personal prejudice out of a thing like this. And wherever you run into it, prejudice always obscures the truth. I don't really know what the truth is. I don't suppose anybody will ever really know. Nine of us now seem to feel that the defendant is innocent, but we're just gambling on probabilities - we may be wrong. We may be trying to let a guilty man go free, I don't know. Nobody really can. But we have a reasonable doubt, and that's something that's very valuable in our system. No jury can declare a man guilty unless it's SURE. We nine can't understand how you three are still so sure. Maybe you can tell us.
Juré n°8 : There's something else I'd like to talk about for a minute. I think we've proved that the old man couldn't have heard the boy say "I'm gonna kill you," but supposing...
Juré n°10 : You didn't prove it at all. What're you talking about?
Juré n°8 : But supposing he really did hear it. This phrase, how many times have all of us used it? Probably thousands. "I could kill you for that, darling." "Junior, you do that once more and I'm gonna kill you." "Get in there, Rocky, and kill him!" We say it every day. That dœsn't mean we're going to kill anyone.
Juré n°3 : Wait a minute. What are you trying to give us here? The phrase was "I'm gonna kill you." The kid yelled it at the top of his lungs! Don't tell me he didn't mean it. Anybody says a thing like that the way he said it, they mean it.
Juré n°2 : It's hard to put into words. I just think he's guilty. I thought it was obvious from the word, 'Go'. Nobody proved otherwise.
Juré n°8 : Nobody has to prove otherwise. The burden of proof is on the prosecution. The defendant dœsn't even have to open his mouth. That's in the Constitution.
Juré n°8 : Look, there was one alleged eye witness to this killing. Someone else claims he heard the killing, saw the boy run out afterwards and there was a lot of circumstantial evidence. But, actually, those two witnesses were the entire case for the prosecution. Supposing they're wrong?
Juré n°12 : What do you mean, supposing they're wrong? What's the point of having witnesses at all?
Juré n°8 : Could they be wrong?
Juré n°12 : What are you trying to say? Those people sat on the stand under oath.
Juré n°8 : They're only people. People make mistakes. Could they be wrong?
Juré n°12 : Well, no, I don't think so.
Juré n°8 : Do you 'know' so?
Juré n°12 : Oh, come on. Nobody can know a thing like that. This isn't an exact science.
Juré n°8 : That's right, it isn't.
Juré n°3 : You're talking about a matter of seconds. Nobody can be that accurate.
Juré n°8 : Well I think that testimony that can put a boy into the electric chair SHOULD be that accurate.
Juré n°11 : I beg pardon...
Juré n°10 : "I beg pardon?" What are you so polite about?
Juré n°11 : For the same reason you are not: it's the way I was brought up.
Juré n°3 : What do you mean you want to try it? Why didn't his lawyer bring it up if it's so important?
Juré n°5 : Well, maybe he just didn't think about it huh?
Juré n°10 : What do you mean didn't think of it? Do you think the man's an idiot or something? It's an obvious thing.
Juré n°5 : Did you think of it?
Juré n°10 : Listen smart guy, it don't matter whether I thought of it. He didn't bring it up because he knew it would hurt his case. What do you think of that?
Juré n°8 : Maybe he didn't bring it up because it would of meant bullying and badgering a helpless old man. You know that dœsn't sit very well with a jury; most lawyers avoid it if they can.
Juré n°7 : So what kind of a bum is he then?
Juré n°8 : That's what I've been asking, buddy.
Juré n°3 : That business before when that tall guy, what's-his-name, was trying to bait me? That dœsn't prove anything. I'm a pretty excitable person. I mean, where dœs he come off calling me a public avenger, sadist and everything? Anyone in his right mind would blow his stack. He was just trying to bait me.
Juré n°4 : He did an excellent job.
Juré n°10 : Oh, listen, I don't see what all this stuff about the knife has got to do with anything. Somebody saw the kid stab his Father, what more do we need? You guys can talk the ears right off my head you know what I mean? I got three garages of mine going to pot while you're talking! So lets get down and get out of here!
Juré n°7 : You a Yankee fan?
Juror #5: No, Baltimore.
Juré n°7 : Baltimore? That's like being hit in the head with a crow bar once a day.
Juré n°8 : I just want to talk.
Juré n°7 : Well, what's there to talk about? Eleven men in here think he's guilty. No one had to think about it twice except you.
Juré n°10 : I want to to ask you something: do you believe his story?
Juré n°8 : I don't know whether I believe it or not - maybe I don't.
Juré n°7 : So how come you vote not guilty?
Juré n°8 : Well, there were eleven votes for guilty. It's not easy to raise my hand and send a boy off to die without talking about it first.
Juré n°7 : Well now, who says it's easy?
Juré n°8 : No one.
Juré n°7 : What, just because I voted fast? I honestly think the guy's guilty. Couldn't change my mind if you talked for a hundred years.
Juré n°8 : I'm not trying to change your mind. It's just that... we're talking about somebody's life here. We can't decide it in five minutes. Supposing we're wrong?
Juré n°7 : Supposing we're wrong! Supposing this whole building should fall down on my head. You can suppose anything!
Juré n°8 : That's right.
Juré n°8 : I just think we owe him a few words, that's all.
Juré n°10 : I don't mind telling you this, mister: we don't owe him a thing. He got a fair trial, didn't he? What do you think that trial cost? He's lucky he got it. Know what I mean? Now, look - we're all grown-ups in here. We heard the facts, didn't we? You're not gonna tell me that we're supposed to believe this kid, knowing what he is. Listen, I've lived among them all my life - you can't believe a word they say, you know that. I mean they're born liars.
Juré n°9 : Only an ignorant man can believe that.
Juré n°10 : Now, listen...
Juré n°9 : Do you think you were born with a monopoly on the truth? I think certain things should be pointed out to this man.
Juré n°8 : I'd like to ask you something: you don't believe the boy's story; how come you believe the woman's? She's one of 'them', too, isn't she?
Juré n°10 : You're a pretty smart fella, aren't you?
Juré n°8 : According to the testimony, the boy looks guilty... maybe he is. I sat there in court for six days listening while the evidence built up. Everybody sounded so positive, you know, I... I began to get a peculiar feeling about this trial. I mean nothing is that positive. There're a lot of questions I'd have liked to ask. I don't know, maybe they wouldn't have meant anything, but... I began to get the feeling that the defense counsel wasn't conducting a thorough enough cross-examination. I mean he... he let too many things go by... little things that...
Juré n°10 : What little things? Listen, when these fellas don't ask questions it's because they know the answers already and they figure they'll be hurt.
Juré n°8 : Maybe. It's also possible for a lawyer to be just plain stupid, isn't it? I mean it's possible.
Juré n°7 : You sound like you met my brother-in-law.
Juré n°3 : Why should he lie? What's he got to gain?
Juré n°9 : Attention, maybe.
Juré n°3 : You keep coming in with these bright sayings. Why don't you send 'em into a paper - they pay three dollars apiece.
Juré n°6 : What are you talkin' to him like that for? Guy talks like that to an old man really oughta get stepped on, you know. You oughta have more respect, mister. If you say stuff like that to him again... I'm gonna lay you out.
Juré n°8 : I'd like to find out if an old man who drags one foot when he walks, cause he had a stroke last year, could get from his bedroom to his front door in fifteen seconds.
Juré n°3 : He said twenty seconds.
Juré n°8 : He said fifteen!
Juré n°3 : He said twenty seconds! What are you tryin' to distort...
Juré n°9 : He said fifteen.
Juré n°3 : How dœs he know how long fifteen seconds is? You can't judge a thing like that.
Juré n°9 : He said fifteen seconds. He was very positive about it.
Juré n°3 : He was an old man. Half the time he was confused. How could he be positive about anything!
[Les votes sont à 6 contre 6]
Juré n°10 : Six to six... I'm telling you, some of you people in here must be out of your minds. A kid like that...
Juré n°9 : I don't think the kind of boy he is has anything to do with it. The facts are supposed to determine the case.
Juré n°10 : Don't give me that. I'm sick and tired of facts! You can twist 'em anyway you like, you know what I mean?
Juré n°9 : That's exactly the point this gentleman has been making.
[Le juré n°8 a convaincu chacun des autres jurés de voter "non coupable" sauf le juré n°3]
Juré n°7 : Well, what do we do now?
Juré n°7 : [Au juré n°3] You're alone.
Juré n°3 : I don't care whether I'm alone or not! It's my right.
Juré n°8 : It's your right.
Juré n°3 : Well, what do you want? I say he's guilty.
Juré n°8 : We want to hear your arguments.
Juré n°3 : I gave you my arguments!
Juré n°8 : We're not convinced. We want to hear them again. We have as much time as it takes.
Juré n°3 : Everything... every single thing that took place in that courtroom, but I mean everything... says he's guilty. What d'ya think? I'm an idiot or somethin'? Why don't cha take that stuff about the old man; the old man who lived there and heard every thing? Or this business about the knife! What, 'cause we found one exactly like it? The old man SAW him. Right there on the stairs. What's the difference how many seconds it was? Every single thing. The knife falling through a hole in his pocket... you can't PROVE he didn't get to the door! Sure, you can take all the time hobblin' around the room, but you can't PROVE it! And what about this business with the El? And the movies! There's a phony deal if I ever heard one. I betcha five thousand dollars I'd remember the movies I saw! I'm tellin' ya: every thing that's gone on has been twisted... and turned. This business with the glasses. How do you know she didn't have 'em on? This woman testified in open court! And what about hearin' the kid yell... huh? I'm tellin' ya, I've got all the facts here... [Il jette son cahier sur la table. On voit une photo de lui avec son fils] Here... Ah. Well, that's it - that's the whole case! [Il se tourne vers la fenêtre pendant que les autres jurés le fixent] Well... say something! You lousy bunch of bleedin' hearts. You're not goin' to intimidate me - I'm entitled to my opinion! [Il regarde la photo de son fils sur la table] Rotten kids... you work your life out! [Il prend la photo et la déchire en morceaux. Il réalise ensuite ce qu'il fait et s'effondre] No. Not guilty. Not guilty.

[Fin du film]
Juré n°9 : Hey... what's your name?
Juré n°8 : Davis.
Juré n°9 : Mine name's McCardle.
[pause]
Juré n°9 : Well, so long.
Juré n°8 : So long.
Critique
L'Amérique... Son système démocratique, sa justice, ses avocats commis d'office... La justice de tous les pays libres... Autant de thèmes qui sont évoqués et développés habilement dans 12 Angry Men. A sa sortie en 1957, le film n'a pas rencontré le succès commercial qui aurait dû légitimement recevoir, trop avant-gardiste peut-être pour l'époque. Film engagé, il remet en cause nos propres valeurs, nos propres jugements, notre propre moralité et fait réfléchir sur la nature humaine. Le progrès social du XXe siècle n'a pas été accompagné d'un progrès moral conséquent : les préjugés, le racisme latent, le manque d'implication civique, l'obéissance aveugle, l'absence de discernement existent, ils sont même le propre de l'Homme, et continueront d'exister.
Dans 12 Angry Men, la réalisation est minimaliste mais si réfléchie quand on l'observe de près. Sidney Lumet n'a laissé aucun détail au hasard. Sa caméra est fluide ; elle impose des changements de rythmes, tantôt lent, tantôt sulfureux mais en tout temps, judicieux. Il a su jouer de main de maître avec la plongée et la contre plongée ; en effet, les jurés les plus « imposants » (les jurés n°3, 4 et 10) sont filmés en contre-plongée tandis que les plus effacés (les jurés n°2 et 6 par exemple) sont « écrasés » par la caméra... Un travail soigné a également été fait sur la gestion de la lumière. Celle-ci apparaît en premier lieu avec la dominance à l'écran du complet blanc d'Henry Fonda, synonyme de justice et de justesse d'esprit. Dans la suite du film, un voile sombre se lève à chaque renonciation par un juré du vote « coupable ». Le juré n°8 se retrouvera bientôt entouré, au détriment du juré n°3 qui se verra à son tour isolé du reste du groupe. Enfin, l'atmosphère créée dans cette salle de délibérations, ce huis clos, est oppressant, on ressent même la chaleur étouffante qui y règne avec les plans rapprochés sur les visages en sueurs. Ce genre de gros plans met en outre l'Homme face à lui-même et face à ses propres choix.
Le peu de mouvements de ce film volontairement nerveux et pesant est magistralement comblé par l'intrigue, mise en valeur par des dialogues et un scénario bien écrits... Un peu de raisonnement et de logique font d'une vérité absolue une vérité beaucoup moins absolue, semant le doute dans les esprits. Est-il vraiment coupable ou non ? Le spectateur lui-même ne saurait le dire. La chose que l'on sait véritablement c'est qu'on ne sait pas justement. Aussi, comment condamner à mort un homme dont on doute de sa culpabilité ? C'est la question morale posée via le juré numéro 8.
Le personnage d'Henry Fonda... Extrêmement passionné, il sait persister et dire non à tous quand il pense que c'est juste. Il ne se laisse pas envahir par ses intérêts personnels (il fait particulièrement chaud, sans air conditionné, il a sûrement d'autre chose à faire mais, avec ses convictions et ses observations lucides, il fait renverser la vapeur d'un train pressé de bâcler une histoire banale. Il aurait certainement désiré rentrer chez lui comme les autres mais il ne l'aurait et ne l'a pas fait à n'importe quel prix. En l'occurrence, celui de la vie d'un homme). On pourrait presque l'apparenter à un révolutionnaire, seul contre tous, qui n'a pour seule arme que ses mots et sa conscience. Ainsi, il arrive, au fur et à mesure, à faire pencher les votes pour arriver à un verdict surprenant mais tout aussi juste. Il revoit tous les faits et témoignages et parvient à les démentir par de simples arguments de temps (le parcours du vieil homme dans son appartement), de vision (la voisine d'en face qui porte très certainement des lunettes et qui a pu être gênée par le métro aérien), d'arme du crime (le juré n°8 a pu se procurer le même couteau que l'accusé), de position, de faux témoignages (l'homme âgé cherchant à être écouté)... M. Davis ne se bat pas seulement pour ce jeune homme mais pour le triomphe de la justice au sens large du terme.
Le dénouement, lui, nous fait réfléchir sur le fait de sauter trop rapidement à des conclusions et aux stéréotypes bien présents déjà à l'époque... Nous avons, en outre, un large panel de la société qui est représenté, des gens, des hommes tout simplement, qui ont des vies différentes, des perceptions et des idéaux différents et qui confrontent leurs idées à l'aide d'une joute verbale bien menée. Une sorte de grand débat où la raison finit par l'emporter. Quoi qu'il en soit, les profondeurs de l'âme humaine sont ici explorées : pour ses douze hommes, cette expérience unique et si éprouvante déterminera à coup sûr leur devenir...
Le film évoque également la prise de décision collective. Les hommes ne possèdent pas une unique rationalité : ils pensent à travers leurs propres expériences de la vie. Chacun vit le procès à sa manière, interprète les détails et les faits d'une façon qui l'arrange. Le raciste y verra un moyen rapide de condamner un immigré, le père de famille peut prendre une revanche facile sur un fils qui l'a rejeté. Il y a également des désintéressés. Ces derniers souhaitent en finir au plus vite pour aller voir leur match ou retourner travailler...
Si les préjugés ne seront finalement pas oubliés, chacun prend conscience de leur existence, au profit du doute. Et qui dit doute, dit acquittement...
D'autre part, le jeu des acteurs est convaincant, leur performance très réussie. 12 Angry Men ne serait rien sans l'extraordinaire talent de ses douze acteurs. Pour commencer, Henry Fonda est humble, froid, d'un calme apparent mais d'une volonté de fer. En proie au doute, il est la voie de la raison, le garde-fou de ces onze autres hommes ; sa responsabilisation d'autrui passe via son ton neutre... Lee J. Cobb campe à merveille ce juré n°3 qui a fait de cette affaire une véritable affaire personnelle, ce père trahi transposant sa rancœur mais aussi son désespoir sur l'accusé parricide.
Avant d'en finir, il est important de replacer ici une phrase puissante qui résume tout : "Je ne sais pas s'il est innocent ou coupable, je dis juste que c'est possible..." Une phrase à méditer...
En conclusion, 12 Angry Men est un film de tête, humaniste, un drame psychologique, sans fioritures, à voir au moins une fois. On apprend ici le juste, le bon, au détriment du mauvais et de l'irréfléchi. 12 Angry Men est particulièrement intéressant d'un point de vue philosophique, psychologique et est devenu une référence comme réflexion peu ordinaire du système judiciaire...
Quelques photos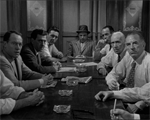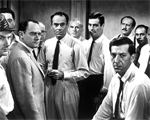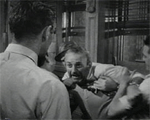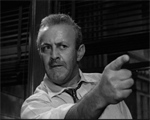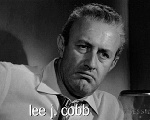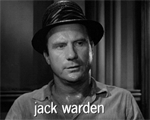 Pour en savoir plus sur Henry Fonda, vous pouvez consulter sur ce même site sa biographie : Henry Fonda